Frustrated passengers were grounded on Friday after striking staff forced Ryanair to cancel around 250 flights, potentially affecting tens of thousands of customers across Europe.
A dispute over pay and conditions between the budget airline and staff in six European countries will see them walk out for 24 hours.
Ryanair had cancelled 150 flights due to an "unnecessary" strike in Spain, Belgium, the Netherlands, Portugal and Italy.
On Thursday the airline said pilots in Germany would also be going on strike, with up to 100 flights shelved as a result.
Danielle Breckenridge was hoping to be able to make it to her father's wedding in eastern Europe with her baby daughter.
The 29-year-old, from Stevenage, Hertfordshire, said she first learned their flight from Luton had been cancelled at 4.50am – 10 minutes before she was due to leave.
The wedding party of 17 had been due to fly to Lithuania on Friday morning for the wedding across the border in Poland the following day.
She and five others have now been booked on to a flight to Warsaw from Stansted, but there was no guarantee that the remaining guests, including the ring bearer, would be able to travel in time.
The bridesmaid said: "The only thing I can say is imagine missing your dad's wedding because someone told you 10 minutes before you were supposed to leave to get your transfer that it's not happening.
"There are no words to describe that."
Ms Breckenridge said the six replacement flights had been booked as a result of her father speaking to Ryanair's chief executive.
She added: "We've been trying to do this ourselves, trying to think how to get there ourselves.
"No representative (from Ryanair) has helped as at all."
Other people due to fly on Friday expressed their frustration on Twitter.
One user claimed to have been left on the runway with "no explanation or apology", while another called the company's response "absolutely disgraceful".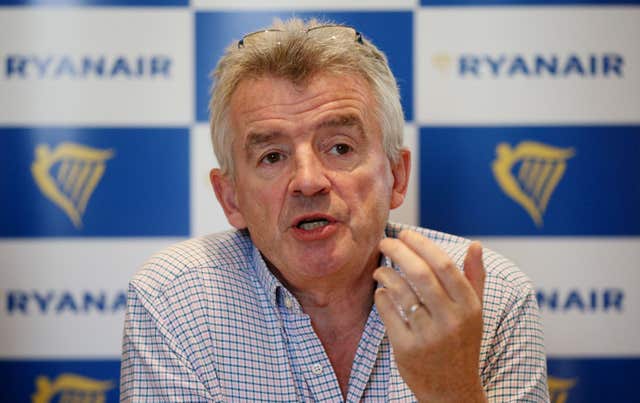 Ryanair's chief operations officer, Peter Bellew, said the action was "deeply regrettable".
"It is deeply disappointing that some of our customers and our people in Germany tomorrow will have their flights disrupted by an unnecessary strike called at short notice," he said.
The strikes are the latest in a series of walkouts by staff at Europe's largest low-cost airline.
On September 12, dozens of flights were cancelled in Germany after pilots and flight attendants refused to work for 24 hours.
In August, several days of strikes involving staff in Ireland, Germany, Sweden, Belgium and the Netherlands saw hundreds of flights cancelled.
Earlier this month, Ryanair chief executive Michael O'Leary said strikes by pilots were necessary to keep air fares down.
He insisted that industrial disputes with the airline's staff have caused "minimal disruption" as he pledged not to "roll over".
WHAT YOU'RE LEGALLY ENTITLED TO IF YOU'VE BEEN AFFECTED
What is Ryanair doing?
Ryanair has been contacting passengers to advise of the cancellation of flights. It has also contacted some passengers asking them to consider booking onto alternative flights in case of disruption to their service.
What happens if Ryanair cancels my flight?
Airlines have to offer a choice of either a full refund of the ticket and compensation or arrange an alternative flight.
Is Ryanair offering compensation?
It has been reported that Ryanair won't be offering compensation for the strikes. However, under EU law, passengers are entitled to compensation if they are given less than two weeks' notice regarding cancellations.
What should I do if my flight is cancelled?
The first thing you should do is contact Ryanair. However, under European legislation, there is also a 're-route' option which means that, if your original airline cannot get you to your destination on your booked date, or the day after, then you can demand to be booked with a rival airline (subject to seat availability).
Your original airline is legally responsible for booking replacement flights and should bear the cost accordingly. If the airline advises you to make your own arrangements then, provided you can prove that you have taken the only available alternative, you should be able to reclaim the costs from the original airline.
What can I do if I have incurred additional costs due to the flight cancellation?
Unfortunately, travel insurance policies do not cover the cost of a replacement flight - you should therefore make use of the 're-route' option mentioned above.
Similarly, any additional costs to enable you to continue your holiday would not be covered, for example, if you had pre-paid your airport parking but now have to travel from a different airport, or if your flight arrangements mean that you now have to stay in a hotel overnight before catching your new flight.
But will my travel insurer pay up?
Generally, if there is a strike which results in the cancellation of flights, then the airline will offer alternative flights or a refund.
There are a few travel insurance policies that offer cancellation cover for 'any reason you could not have been expected to foresee or avoid'.
If you have this cover, you may be able to cancel your holiday and claim back any pre-paid expenses, such as excursions, car hire costs or accommodation fees that you cannot get back from anywhere else. However, if you buy a policy after a strike has been announced then you may not be covered as it is a 'known event'.