The majority of Scots feel they have no-one to talk to about issues such as mental health or relationship problems, a survey has found.
The figures have been highlighted as part of Time to Talk Day on February 1 with charities leading a push to get people talking more openly about mental health.
In Scotland, two-thirds of people (67%) said they have no-one to talk to or could not find the right time or place when it comes to personal conversations on topics such as mental health, money problems and relationships.
Politicians and celebrities are backing the campaign by the See Me programme to get more people to talk openly.
First Minister Nicola Sturgeon said: "We want to create a Scotland where all mental health stigma and discrimination is challenged.
"No-one should be made to feel ashamed or isolated because of their mental health.
"The work of See Me – and their Time to Talk campaign in particular – are hugely important as they encourage people to have a conversation and open up about mental health issues.
"So, if you are worried about someone, show you care by taking the first step. Start that conversation and ask them if they are okay."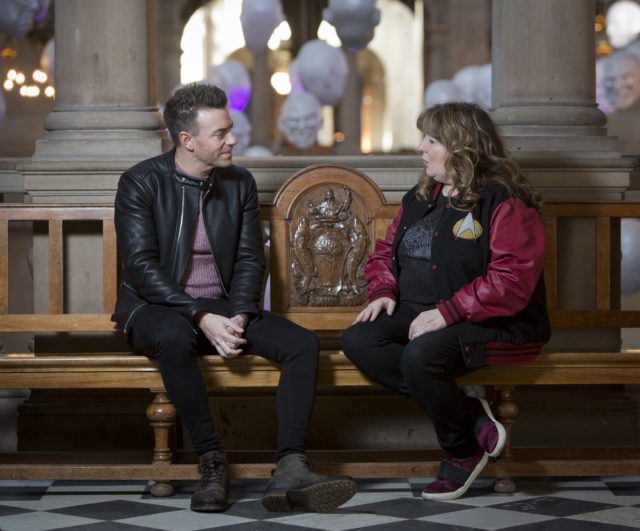 Comedians Des Clarke and Janey Godley are supporting the campaign to get people talking.
Clarke said: "We all have mental health and it should be something we can talk about anywhere.
"At the moment people still find it difficult to open up and speak about how they are feeling.
"That's why I wanted to come down and show that even in a museum you can chat about what's going on in your life and how you're feeling."
Liam Rankin, 49, from East Kilbride, South Lanarkshire, was first diagnosed with schizophrenia when he was a teenager and has realised talking about it has helped.
He said: "I always thought I couldn't tell anyone about my schizophrenia, that it wasn't something I should talk about.
"So, I ended up self-harming and overdosing to try and get people to ask me how I was. If no-one asks you how you are, then it is so much harder to talk about it.
"The more you speak, the more you realise you're not alone and there are people out there to talk to."
See Me director Calum Irving said: "It's easy to think there's no right place to talk about mental health, but the more we talk about it, the better life is for all of us.
"Too many people with mental health problems are made to feel isolated, worthless and ashamed. Conversations have the power to change lives, wherever they take place."